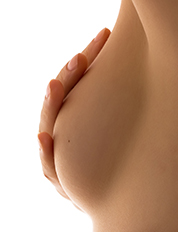 Breast augmentation is a surgical procedure to change the size and shape of the breasts. The procedure usually involves the placement of implants into the breast tissue to give the breasts more volume and fullness. Breast augmentation is one of the most popular cosmetic surgeries performed today. The procedure is considered relatively safe and successful and can be customized to the unique body shape and expected outcome for each individual patient.
Women may seek breast augmentation for a number of reasons. Some may be unhappy with the size of their breasts and the way clothing fits their torso. Others may have seen changes to the breast after childbirth and nursing, and would like to regain their more youthful, pre-pregnancy breast contour. Choosing breast augmentation is a very personal decision that should be made between a woman and her plastic surgeon.
Best Candidates
The best candidates for breast augmentation are women who have a positive body image and simply want to improve the appearance of their breasts. Patients should be in good physical health with realistic expectations of what the procedure can do for them. Breast augmentation may be used to address the following concerns:
Create fuller breasts proportionate to the patient's body shape
Restore volume lost through pregnancy and breastfeeding
Create symmetry in breasts that are different sizes
Reconstruct breasts after breast surgery
Breast augmentation may be performed alone or in combination with another procedure like a breast lift to further enhance results. Implants can also be placed in cases of breast reconstruction to restore a natural-looking breast appearance.
Type of Breast Implants
There are two basic types of implants used for breast augmentation today:
• Saline Implants – These implants consist of a shell that is filled with a saline solution once the implants are placed in the chest. One advantage to saline implants is that because they are filled after insertion, the incision for the surgery is much smaller.
• Silicone Implants – Silicone implants are a newer option in breast augmentation, and often preferred by most patients and doctors. Silicone implants require a larger incision to place them, but they tend to look and feel more like natural breast tissue. In addition, there is not concern about an implant rupturing and changing the outer appearance of the breast.
Dr. Geoffrey Leber uses silicone implants on more of his patients, but there may be times when saline implants are a better option. Both types of implants come in a wide range of sizes and shapes, so they can be customized to the unique body shape and preferences of each patient.
About the Procedure
The specific technique for breast augmentation will depend on the type of implants used and where they are placed. Dr. Leber prefers to place implants under the pectoral muscle for most of his patients, because there is a reduced risk of skin rippling and scar tissue forming around the implant. This type of placement also results in less interference during mammograms.
The procedure is generally performed on an outpatient basis under general anesthesia. After the incision is made, the breast implant is carefully placed and then the incision is closed. Most breast augmentation procedures take 1-3 hours to perform, but specific length is dependent on the patient and the type of technique used for the surgery.
Recovery and Results
After breast augmentation, patients remain in a recovery area for a period of time. Patients are usually allowed to return home the same day as the procedure, as long as they have someone to drive them home. Discomfort for the first few days after breast surgery is managed with oral medication and a compression garment may be recommended to promote healthy blood flow and minimize swelling.
Most patients are able to return to work and regular activities within one week, although strenuous exercise may be restricted for 3-4 weeks after surgery. Results are visible right away and will continue to improve as the breasts heal. Breast augmentation is considered a permanent breast enhancement procedure, although the aging process may change the appearance of the breasts once again. If this occurs, additional procedures may be needed to maintain full results.
Breast Augmentation Scars
One concern patients often have before breast augmentation is what the incision and subsequent scarring will look like. The good news is that today's procedures actually leave very little scarring, due to the size and location of the required incisions. In addition, there are steps you can take after your augmentation surgery to reduce the appearance of scarring even further.
Location of Scars
There are three basic locations where incisions may be placed for breast augmentation surgery:
Inframammary Incision – This incision is placed near the crease underneath the breast and is commonly used for the insertion of silicone implants. Scarring is typically concealed underneath the breast.
Transaxillary Incision – This incision is located under the arm and may be used with saline implants. Although it is located away from the breast, the recovery from this procedure can be more difficult.
Periareolar Incision – This is another common incision used for the placement of a saline implant. The incision is placed around the border of the areola, where it becomes nearly invisible after it heals. However, the periareolar incision may make it harder for some women to breastfeed after breast implant surgery.
Steps to Minimizing the Appearance of Scars
No matter where your incision is located, there are steps you can take after your breast augmentation procedure to minimize their appearance. Dr. Leber will talk to you about specific options, which might include:
Silicone Sheeting – This product has been used for years by doctors to help reduce the thickness of scarring, which also minimizes its appearance.
Cortisone Cream – Daily application of cortisone cream stimulates collagen production to aid the body's own healing process.
Vitamin E – Applied topically, vitamin E can reduce scarring that might appear around the implant.
Pressure Bandages – Used to treat scarring from burns for more than a century, these bandages also work to reduce the appearance of other types of scars.
It is also important to follow post-operative instructions given by Dr. Leber very carefully. These instructions are meant to speed the healing process and may minimize scarring after the incision heals.
Repairing Scars
Sometimes, despite our best efforts, the resulting scar will be more visible than the patient hoped. In these situations, there are a number of skin resurfacing procedures that may help to minimize the scar, including laser treatments and dermabrasion.
Schedule Your Breast Augmentation Consultation
Dr. Geoffrey Leber has been performing breast augmentation procedures for more than 16 years. He is known for providing natural results that create balance and proportion to a woman's body profile. Dr. Leber has been recognized by Phoenix Magazine as one of the top plastic surgeons for breast augmentation in the area. For more information about this procedure, contact Dr. Leber's office today.
Dr. Leber and his staff are here to help you achieve your aesthetic goals in a safe and caring environment. If you're interested in scheduling a procedure, reach us by phone (480) 945-5522 or contact us online.