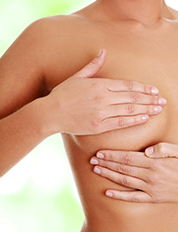 Some women may find that breast augmentation alone is not enough to bring back the youthful contour of their breasts. While this procedure adds fullness and volume, it cannot improve the flat upper breast pole that often results from pregnancy and breastfeeding. For patients with these concerns, Dr. Geoffrey Leber offers a combination of breast augmentation and a breast lift procedure to restore a youthful, natural look to the breasts.
Best Candidates
The best candidates for breast augmentation + lift are women who have one or more of the following:
Smaller breast size than they would like
Asymmetrical breasts (one breast larger than the other)
Sagging breasts due to the aging process or breastfeeding
The specific procedure for breast augmentation + lift will depend on the results the patient is hoping to achieve. Some of the variables that will be discussed prior to the procedure include:
Type and size of implant
Implant placement
Location of the incision
The choice of breast surgery is a personal decision between a women and her doctor. Dr. Leber works one-on-one with each of his patients to help them determine the best procedures for their specific needs.
About the Procedure
Breast augmentation + lift are performed as an outpatient procedure at Dr. Leber's office. In addition to implant placement, Dr. Leber will create the proper framework for the breasts, removing excess skin and repositioning nipples as needed. The entire procedure may take 2-4 hours to complete, depending on the specific techniques to be used.
Recovery and Results
After the procedure, patients usually remain in recovery under observation by our staff for a period of time. Most patients are allowed to return home the same day as the procedure to continue recovery in the comfort of their own surroundings. Patients typically return to work within 1-2 weeks after the procedure.
Results from breast augmentation + lift are seen right away, but full results may not be evident until the breasts have fully healed. This procedure is considered a permanent way to resize the breasts, although the natural effects of the aging process may require additional treatments in time.
The advantage to combining breast augmentation with a breast lift is that patients only need one surgical procedure and one recovery period. The results of the procedure are also more dramatic. For more information about breast augmentation + lift, contact Dr. Leber and his staff today.