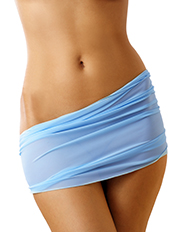 A lower body lift removes excess skin and isolated pockets of fat from the body left behind from significant weight loss. The procedure targets a number of areas, including the lower midsection, buttocks, hips and upper thighs. Since a lower body lift is a combined treatment plan, it is often performed in combination with an abdominoplasty and liposuction to achieve the most transformative results. If you're bothered by loose, hanging skin or uncomfortable symptoms like skin chafing or irritation, Dr. Geoffrey Leber can make affected areas of the lower body more taut and restore a smooth, even contour.
Is a Lower Body Lift Right for Me?
The best candidates for a lower body lift are men and women who have lost a significant amount of weight and are dealing with the after-effects of those efforts. Patients who have lost weight through bariatric surgery are also good candidates. Specific concerns treated by a lower body lift include:
Excess, loose sagging skin on the lower part of the body
Isolated pockets of fat on the lower body that have not responded to diet and exercise
Muscles of the lower body that have become weak due to pregnancy or the aging process
Skin folds that are causing chaffing and recurrent infractions
Individuals who are uncomfortable with their lower body appearance
If you're interested in surgery, it's important to be in reasonably good health, a non-smoker, and to be able to maintain realistic expectations for what surgery can achieve. Dr. Leber, our board-certified aesthetic plastic surgeon, will assess your goals, concerns, and medical history to determine whether you're a good candidate for a lower body lift or another treatment, such as a Mommy Makeover or non-surgical skin tightening.
What Does a Lower Body Lift Consist Of?
The treatments performed during a lower body lift vary according to each person's needs and areas of concern. This provides men and women with a treatment plan that is completely customized to achieve their goals. Although each lower body lift will be unique, the surgical plan generally involves some combination of procedures including:
Tummy Tuck: A tummy tuck is often a key part of a lower body lift. Sagging skin is commonly left on the abdomen after pregnancy and substantial weight loss, which may be accompanied by stretched musculature and excess fat. If you have hanging tissue in the midsection that's resistant to dieting and exercise, abdominoplasty can be a highly effective procedure to reduce a bulging appearance and remove redundant skin in the region.
Thigh Lift: Significant weight loss frequently leaves excess skin around the inner thighs, causing not only aesthetic concerns but also irritation and chafing caused by friction. For this reason, a thigh lift is commonly performed as part of a lower body lift to circumferentially sculpt the thighs and make the thigh contour more taut.
Buttock Lift: Similar to a thigh lift, a buttock lift is designed to remove excess sagging skin from the buttocks in order to achieve a firmer, smoother appearance. This can improve the shape of the buttocks by removing excess skin and fat, creating a more sculpted, toned look in the backside.
Liposuction: Liposuction is often incorporated into a lower body lift to remove stubborn bulges of fat in the torso, back, thighs, and buttocks. This procedure uses suction-based fat removal to smooth the areas planned for treatment. Liposuction is often complemented by lifting and skin tightening procedures to produce a more sculpted appearance.
Other cosmetic procedures can also be included in a lower body lift if desired, and Dr. Leber will thoroughly discuss treatment options with you during a consultation.
How is the Lower Body Lift Procedure Performed?
Dr. Leber usually performs a lower body lift under general anesthesia. It may or may not be considered an outpatient procedure, depending on the extent of surgical work to be done. A complete lower body lift will address the thighs, buttocks, hips and waistline in a single procedure.
A horizontal incision is usually made on the lower torso, which allows Dr. Leber access to remove excess fat tissue and skin. The incision size and location will depend on the amount of tissue to be removed and the preferences of the patient. Incisions may be placed on both the front and back of the midsection as needed. Efforts will be made to keep the incision and subsequent scarring as inconspicuous as possible.
If necessary, a lower body lift may also include liposuction to remove smaller, isolated pockets of fat. Liposuction involves the use of a very narrow cannula that is inserted directly into the skin pocket to loosen and remove pockets of fat. Incisions to insert the cannula are typically very small and may not require sutures to close the incision after treatment.
What is Recovery From a Lower Body Lift Like?
Recovery from a lower body lift is typically longer than the recovery time from other cosmetic procedures. Most patients are unable to return to work and regular activities for at least 2-3 weeks. Some activities may be restricted for 4-6 weeks after the procedure. Discomfort after the procedure may be managed with prescription pain medication, while compression garments minimize post-surgical swelling.
What Results Can I Expect From a Lower Body Lift?
Results from a lower body lift are dramatic and will become more evident as the body heals. The outcome is considered permanent as long as a healthy weight is maintained. However, some skin sagging may occur over time as a normal part of the aging process.
How Much Does a Lower Body Cost?
The cost of a lower body lift is assessed after your consultation, where Dr. Leber will be able to gain a sense of the procedures necessary to achieve your goals. Similar to the treatment plan for a lower body lift, costs also vary from patient to patient. Factors that can affect your cost estimate typically include:
The procedures included in your lower body lift
The surgical techniques utilized
The extent of your concerns
The overall complexity of the procedure(s) chosen
We welcome you to ask about plastic surgery financing options, which we accept through CareCredit® and Prosper® Healthcare Lending. Once approved through the fast application process, qualified patients can choose the most ideal payment plan for their budgetary concerns. Please don't hesitate to call our office if you have any questions about the cost of a lower body lift.
Will I Have Scars From a Lower Body Lift?
Scars are inevitable after any surgical procedure, but Dr. Leber prioritizes placing incisions in discreet, inconspicuous locations whenever possible to minimize the appearance of scarring. Depending on which procedures were incorporated into your treatment plan, the shape and size of the scars from lower body lift surgery will vary. Dr. Leber will show you how your scars are likely to appear during your consultation. Generally speaking, scars from abdominoplasty and other lifting procedures will be more prominent than scars from less invasive surgeries, such as liposuction. With good incision care during the recovery period and the application of skin creams and sun protection, scars from a lower body lift often fade to some degree over time.
Dr. Leber offers a variety of lower body lift procedures at his aesthetic facility. To learn more about what's involved in this cosmetic procedure or the potential benefits of a lower body lift, contact Dr. Leber to schedule a consultation.