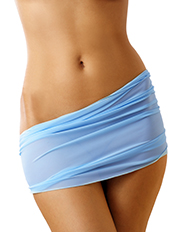 A lower body lift removes excess skin and isolated pockets of fat left over after significant weight loss. The procedure targets a number of areas, including the lower midsection, buttocks, hips and upper thighs. A lower body lift is often performed in combination with an abdominoplasty and liposuction to achieve the most dramatic results.
Lower body lifts are extensive surgical procedures that often involve a night or two in a hospital and an extended recovery time. However, patients that undergo this procedure enjoy dramatic results that put the finishing touch on what has often been a long and painful quest to obtain the body contour they have always wanted. The procedure provides a new lower body contour that allows for better fitting of clothing and a leaner look overall.
Best Candidates
The best candidates for a lower body lift are men and women who have lost a significant amount of weight and are dealing with the after effects of those efforts. Patients who have lost weight through bariatric surgery are also good candidates. Specific concerns treated by a lower body lift include:
Excess, loose sagging skin on the lower part of the body
Isolated pockets of fat on the lower body that have not responded to diet and exercise
Muscles of the lower body that have become weak due to pregnancy or the aging process
Skin folds that are causing chaffing and recurrent infractions
Individuals who are uncomfortable with their lower body appearance
Candidates should be in reasonably good health, should not smoke and should have realistic expectations of what the procedure can do for them.
About the Procedure
Plastic surgeon Geoffrey Leber, MD usually performs a lower body lift under general anesthesia. It may or may not be considered an outpatient procedure, depending on the extent of surgical work to be done. A complete lower body lift will address the thighs, buttocks, hips and waistline in a single procedure.
A horizontal incision is usually made on the lower torso, which allows Dr. Leber access to remove excess fat tissue and skin. The incision size and location will depend on the amount of tissue to be removed and the preferences of the patient. Incisions may be placed on both the front and back of the midsection as needed. Efforts will be made to keep the incision and subsequent scarring as inconspicuous as possible.
If necessary, a lower body lift may also include liposuction to remove smaller, isolated pockets of fat. Liposuction involves the use of a very narrow cannula that is inserted directly into the skin pocket to loosen and remove pockets of fat. Incisions to insert the cannula are typically very small and may not require sutures to close the incision after treatment.
Recovery and Results
Recovery from a lower body lift is typically longer than the recovery time from other cosmetic procedures. Most patients are unable to return to work and regular activities for at least 2-3 weeks. Some activities may be restricted for 4-6 weeks after the procedure. Discomfort after the procedure may be managed with prescription pain medication, while compression garments minimize post-surgical swelling.
Results from a lower body lift are dramatic, and will become more evident as the body heals. Results of a lower body lift are considered permanent, as long as a healthy weight is maintained. However, some skin sagging may occur in time, as a normal part of the aging process.
Dr. Leber offers a variety of lower body lift procedures at his facility. To learn more about what is involved in this cosmetic procedure, or the potential benefits of a lower body lift, contact Dr. Leber's staff to schedule a consultation.