Restoring Peace Of Mind After Facial Trauma Injury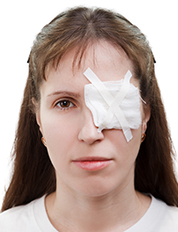 In some cases, plastic surgery is performed for purely cosmetic reasons. However, when unexpected trauma occurs to the face, the focus becomes restoring the physical and emotional balance for the patient. Facial trauma refers to lacerations or other damage to the soft tissue of the face. If the injury is not treated expeditiously and carefully, disfigurement and severe scarring can occur.
Treatment of facial trauma requires precision, experience and skill on the part of the plastic surgeon. Dr. Geoffrey Leber is experienced in addressing a wide variety of facial injuries and works diligently toward minimizing risk and the residual effects of the injury and treatment. He has handled everything from gunshot wounds to the face to partial nasal amputations.
Best Candidates
Facial trauma can happen to anyone at any age. Many injuries occur to children as a result of sports injuries. Adults may experience facial trauma due to a car accident, on-the-job accident or an act of violence. Anyone who has experienced injuries to the face, no matter how minor or severe the injury might be, is a candidate for facial reconstruction.
About the Procedure
Treatment for facial trauma will vary considerably, based on the specific type of injury to be addressed. The primary goal of treatment will be to restore the physical facial features as well as their function. Specific concerns might include:
Controlling bleeding
Repairing fractured bones
Creating a clear airway around the mouth and nose
Minimizing disfigurement and scarring
The advent of technology in plastic surgery has allowed surgeons to perform many surgeries using very small incisions. Referred to as endoscopic surgery, this type of procedure results in less scarring and shorter recovery time. However, not all patients will be candidates for endoscopic procedures.
Recovery and Results
Recovery and results from facial trauma treatment will also vary significantly from patient to patient. Dr. Leber uses his extensive experience in a wide variety of plastic surgery procedures to carefully treat each trauma patient on a personal, individualized basis. Dr. Leber and his staff also strive to make every trauma patient feel comfortable and cared for as they go through their treatment steps.
If you have been the victim of facial trauma, contact Dr. Leber and his staff at our Scottsdale office. You will find a comfortable, welcoming environment, professional staff and state-of-the-art procedures to help restore physically and emotionally.