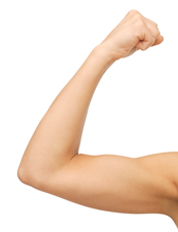 An arm lift, also referred to as brachioplasty, is a surgical procedure designed to improve the contour of the upper arm. The procedure, which addresses the area from the armpit to the elbow, removes excess, sagging skin from the lower arm caused by aging, genetics, or significant weight loss. After losing a substantial amount of weight, the upper arm skin is often unable to "snap back" to a patient's new arm contour. Arm lift surgery offers new firmness and tone to the upper arm, which cannot be achieved through exercise or other types of cosmetic procedures.
Dr. Geoffrey Leber performs brachioplasty to resculpt the upper arm and help you attain the sleek, firm, and defined arm shape many patients desire. As an experienced fellowship-trained and board-certified plastic surgeon, Dr. Leber is skilled in both regular and mini brachioplasty procedures and committed to helping individuals in Scottsdale achieve their goals with natural-looking results. 
What are the Benefits of an Arm Lift?
Arm lift surgery can address excess skin and fat, as well as weakened musculature, resulting in the appearance of sagging upper arms — an aesthetic sometimes known as "bat wings." While the benefits enjoyed by each patient vary, the procedure generally allows:
Increased firmness in the upper arms
An improved arm shape, thanks to the removal of hanging skin
A more defined arm contour 
A toned, sleeker look in the upper arms
Brachioplasty commonly incorporates liposuction to remove isolated fat deposits in the upper arms, as this region tends to accumulate excess fat. Combined with loose, inelastic skin, these concerns may cause the arms to sag or hang. Arm lift surgery can be an excellent solution to redefine the arms and achieve a tighter, more sculpted appearance. 
Who is a Good Candidate for an Arm Lift?
The best candidates for an arm lift are patients in reasonably good health and of average weight who have significant amounts of sagging in the upper arm area. This procedure typically results in a scar that runs the full length of the underside of the upper arm. Because of the amount of scarring left behind, the procedure is usually recommended to patients who have a large amount of excess skin and are willing to trade the residual scar for firmer arms.
This procedure is often performed after a patient loses a substantial amount of weight. If the patient plans to lose additional weight in the future, Dr. Leber — our experienced plastic surgeon — usually advises a patient to postpone brachioplasty until weight loss goals are fully met. If the procedure is performed prematurely, additional surgery may be needed to address recurrent sagging that may appear after more weight is dropped.
How is the Arm Lift Procedure Performed?
Arm lifts are performed by Dr. Leber in his Scottsdale-area clinic. Surgery is typically an outpatient procedure that utilizes general anesthesia. An arm lift involves an incision made from the armpit to the elbow, which allows Dr. Leber access to remove excess skin and tissue. Liposuction may also be used to remove excess fat pockets before the arm is reshaped.
Once the supportive tissue is reshaped, the skin is placed back over the area and sutured closed for a leaner, firmer look. The entire procedure may take anywhere from 1-2 hours to perform, depending on the amount of work to be completed.
What is Recovery From an Arm Lift Like? 
Patients typically experience mild to moderate discomfort after the procedure, which can be managed by prescription pain medication for the first few days. Bruising is generally minimal and any swelling that occurs should subside within the following two weeks. Patients will see results of an arm lift right away and the outcome will continue to improve as swelling goes down.
How Long Do Arm Lift Results Last?
Brachioplasty permanently removes excess skin and fat from the upper arms, so results should remain stable as long as a patient does not gain a significant amount of weight. Fluctuations in weight often reduce skin elasticity, which increases the likelihood of recurrent sagging in the region. For this reason, we encourage arm lift patients to maintain an active lifestyle and commit to healthy eating and regular exercise. If you're planning to expand your family or lose additional weight, Dr. Leber also advises patients to postpone an arm lift in order to maximize the integrity of the results.
Will I Have Visible Arm Lift Scars?
Yes, scarring after surgery is inevitable. Scarring will mirror the size and shape of your incision, meaning your brachioplasty scar will be found on the inside of the arm. It generally extends from the underarm to the elbow unless you're receiving a mini brachioplasty, which offers the benefits of a shorter incision and scar. 
The traditional brachioplasty scar is located in the bicipital groove, which may be visible in the front view when your hands are by your side. With Dr. Leber's technique, the scar is placed in a more concealed location at the bottom of your arm with your arms extended 90 degrees from your body. This location makes it harder to see the scar from the front or the back when your arms are by your sides. Dr. Leber will show you exactly where your post-operative scars are likely to appear. The decision of whether the resulting scar is worth the improvement possible with arm lift surgery will be up to each patient. We welcome you to review our arm lift before-and-after photos to get a better idea of the extent of scarring possible after your surgery. 
How Much Does an Arm Lift Cost?
The cost of brachioplasty differs for each patient based on their unique concerns, goals, and treatment plan. For this reason, an accurate cost estimate for surgery cannot be assessed until Dr. Leber speaks with you in a consultation. Details that may influence the price of your procedure include: 
The extent of work to be completed
The complexity of your treatment plan
The surgical techniques utilized
Your personalized quote will include standard surgical fees, such as the cost of anesthesia, medications, the surgical facility, post-operative care, etc. Don't hesitate to call our office for more information about the cost of an arm lift, or our third-party financing companies. Dr. Leber accepts payment plans for CareCredit® and Prosper® Healthcare Lending, which each provide qualified patients with short- and long-term financing options. 
To learn more about arm lift surgery, please don't hesitate to contact Dr. Geoffrey Leber at our Scottsdale-area practice for additional information.