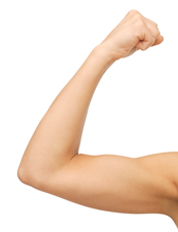 An arm lift, also referred to as a brachioplasty, is a surgical procedure used to improve the contour of the upper arm. The procedure, which addresses the area from the armpit to the elbow, removes excess, sagging skin from the lower arm that can be due to aging, heredity or significant weight loss. An arm lift offers new firmness and tone to the upper arm that cannot be achieved through exercise or other types of cosmetic procedures.
Best Candidates
The best candidates for an arm lift are patients in reasonably good health and of average weight that have significant amounts of sagging in the upper arm area. This procedure typically results in a scar that runs the full length of the underside of the upper arm. Because of the amount of scarring left behind, the procedure is usually recommended to patients who have a large amount of excess skin and are willing to trade the residual scar for firmer arms.
This procedure is often performed after a patient loses a substantial amount of weight. If the patient plans to lose additional weight in the future, Dr. Geoffrey Leber—our experienced plastic surgeon—usually advises that the patient wait on brachioplasty until weight loss goals are fully met. If the procedure is performed prematurely, additional surgery may be needed to address sagging skin that appears after more weight is dropped.
About the Procedure
Arm lifts are performed by Dr. Leber in his Scottsdale-area clinic as an outpatient procedure under general anesthesia. The procedure involves an incision from the armpit to the elbow, which allows Dr. Leber access to remove an excess tissue and skin. Liposuction may also be used to remove excess fat pockets before the arm is reshaped.
Once the supportive tissue is reshaped, the skin is placed back over the area and sutured closed for a leaner, firmer look. The entire procedure may take anywhere from 1-2 hours to complete, depending on the amount of work to be completed.
Recovery and Results
Patients typically experience mild to moderate discomfort after the procedure, which can be managed by prescription pain medication for the first few days. Bruising is generally minimal and swelling that occurs will subside within the following two weeks. Patients will see results of an arm lift right away and results will continue to improve as swelling goes down.
Dr. Leber is experienced in both regular and mini brachioplasty procedures.