A photofacial, also known as intense pulsed light therapy or IPL, is a cosmetic treatment used to rejuvenate the skin and eliminate minor skin imperfections. The procedure is virtually painless and requires no downtime afterward. At Leber Skin and Laser Center, we use the Lumenis M22 to restore patients' skin to its youthful appearance.
Lumenis M22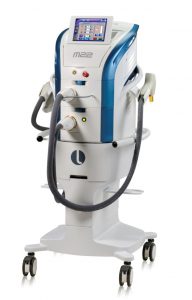 M22 is the gold standard platform for the treatment of a variety of skin conditions. The M22 is the multi-application platform that enables treatment of more skin types and conditions with better outcomes.
SapphireCoolTM Light Guides – Two Sizes for Large and Small Areas
Maximize patient comfort via efficient continuous contact cooling
Quickly switch light guides to treat larger or smaller areas
The large spot size increases treatment speed by up to 3.5 times. We can typically treat a face in 20 minutes.
Who is it for?
As an alternative to laser skin resurfacing, photofacial treatments can be used on many areas of the body, including the face, hands, neck, chest, and arms. The procedure can address the following skin concerns:
Fine lines and wrinkles
Spider veins on the face
Minor blemishes
Shallow scarring
Age and liver spots
How does it work?
We utilize the Lumenis M-22 Machine for this treatment.
This is the newest Photofacial machine available from Lumenis.
The gentle, non-ablative treatments use broad-spectrum light to treat the face, chest, neck and hands- virtually anywhere the damage shows.
The treatment regimen typically consists of 3-5 treatments administered at three-week intervals.
The process is ideal for patients with active lifestyles because the procedure requires no downtime and has a low risk of side effects.
Patients are asked to have refrained from sun exposure at least two weeks prior to treatment and two weeks post treatment.
Licensed laser technicians in our office who have undergone additional training from Lumenis perform this procedure.
Photofacial treatments have been highly touted by celebrities and others as a quick, painless way to refresh and rejuvenate the skin.