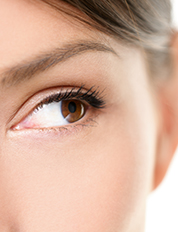 Excess fat and skin can gather around the eyes as we age, resulting in a drooping look in the upper lids and/or baggy lower eyelids. The brows can also start to lose support and sag, further contributing to a worn, tired appearance. In some cases, drooping tissue can get to the point where it interferes with your line of sight, impairing part of your vision. An eyelid lift, also referred to as blepharoplasty, is a surgical procedure performed to enhance the appearance of the eyes. The procedure may be performed on the upper or lower eyelids, as well as both regions at the same time. At our Scottsdale practice, plastic surgeon Geoffrey Leber, MD offers eyelid surgery to restore a more youthful look by opening up the eyes and removing sagging skin on the lids that may be aging your appearance and/or blocking your vision.
What are the Benefits of Blepharoplasty?
An eyelid lift is considered one of the most powerful facial plastic surgery procedures to refresh the upper face and attain a brighter, more energetic look. When excess skin and fat disrupts a smooth, sleek eyelid contour, you can unintentionally exude a stressed or tired expression. This often causes individuals to seem upset or fatigued despite what they're actually feeling. Blepharoplasty can be a long-lasting and transformative solution to smooth excess tissue and help patients reclaim a rejuvenated appearance. The natural-looking outcomes that are possible with eyelid surgery are showcased in our plastic surgery before-and-after photos, which depict examples of previous patients who achieved their goals with an eyelid lift. Dr. Leber can meet with you in a consultation to personally discuss the best treatment options to resolve your concerns, whether they include reducing drooping brows, frown lines, under-eye bags, or other signs of upper facial aging. 
Is Eyelid Surgery Right for Me?
The best candidates for an eyelid lift are men and women in reasonably good health with healthy facial tissue. They should also have realistic goals for their cosmetic procedure. Blepharoplasty is effective in treating the following concerns:
Fatty deposits under the upper lid that cause puffiness
Excess skin folds from the upper lid that may impair vision
Droopy lower lids that reveal the white of the eye below the iris
Bags and puffiness under the eyes
Fine lines that add to an aged look of the lower eye
If you're considering blepharoplasty, it's important to have realistic expectations for the results of the procedure. Dr. Leber will listen to your concerns and discuss what can be achieved with an eyelid lift to help ensure you have a good understanding of the benefits and limitations of surgery. In some cases, Dr. Leber may also recommend combining blepharoplasty with other cosmetic procedures, such as a brow lift, to provide a more harmonious, comprehensive outcome.
Types of Eyelid Surgery
Signs of aging around the eyelids can be treated with either upper or lower blepharoplasty. Many patients opt to address the upper and lower eyelids at the same time to obtain a more harmonious outcome. 
Upper Blepharoplasty
During upper eyelid surgery, drooping tissue is lifted and smoothed through a discreet incision placed along the natural fold of the eyelid. This can alleviate "hooding," reduce wrinkles, and generally make the upper eyelids look more refreshed. This procedure can also address excess skin causing the upper lids to fold over or droop past the lash line. Since incisions are meticulously placed on the eyelid crease, scars should be virtually undetectable to outside observers. 
Lower Blepharoplasty
The traditional lower eyelid blepharoplasty removes bulging fat from the lower eyelid. This can sometimes lead to a hollow, sunken orbit which can actually make you look older. Additionally, possible scar tissue formation can cause complications leading to lower eyelid malposition or "scleral show." Dr. Leber believes the key to restoring a more youthful look involves replenishing lost volume with facial fat grafting. Rather than removing fat, Dr. Lebar adds fat under the visible bags in the lower eyelid/cheek hollow. He then utilizes the "pinch blepharoplasty" technique to remove a small amount of excess skin and tighten the underlying muscle. This effectively pulls tight the muscle and underlying orbital septum, as well as the underlying puffy fat pockets.  
The combination of adding fat in the lid-cheek junction hollow and tightening the loose muscle and underlying septum creates a naturally smooth, blended lid-cheek junction without the puffiness and underlying hollow. Additionally, Dr. Leber's technique preserves the intra-orbital fat helping to preserve a youthful and less hollow appearance. The scar is concealed under the lash line and there are no added complications that can occur when removing orbital fat. Another huge benefit of this procedure is that it can easily be performed utilizing local anesthesia. This procedure can also help reduce dark circles under the eyes for a more energetic look overall. Depending on your goals, the incision may be placed along the lower lash line or internally. In either case, the resulting scar should be inconspicuous — if not hidden altogether. Examples of Dr. Leber's results can be viewed in his before-and-after gallery. Dr. Leber will explain what you can expect during your consultation. 
How is an Eyelid Lift Procedure Performed?
An eyelid lift is commonly performed as an outpatient procedure using local anesthetic and sedation. Incisions are made in the natural folds of the eye or inside the eyelid to minimize scarring after the procedure. If both the upper and lower lid will be addressed, the upper lids are typically completed first.
The entire procedure takes anywhere from 30 minutes to two hours to complete, depending on the amount of work to be done. After the procedure, patients are kept in recovery for a period of time to ensure there are no complications from the anesthesia or surgery. Most patients are allowed to return home the same day as their procedure, but will require another person to drive them home from the medical center.
What is the Eyelid Surgery Recovery Period Like?
Discomfort is usually minimal after an eyelid lift and is effectively managed with pain medication. Ice packs may also be recommended to keep bruising and swelling to a minimum after surgery. Patients will be instructed to cleanse the eyes daily and will likely be given an ointment to use to prevent excessive dryness.
Most patients return to work and regular activities within 7-10 days after an eyelid lift. The results of the procedure will be evident once swelling and bruising in the area subside. An eyelid lift is considered a permanent surgical procedure, although the effects of aging may eventually become apparent around the eyes once again. Regardless, patients who received eyelid surgery generally always look more youthful than they would have if they never pursued the procedure. 
How Much Does Eyelid Surgery Cost?
Both upper and lower eyelid surgery are personalized based on your needs and goals, so costs are similarly unique to each individual patient. On average, the cost of blepharoplasty can range from about $3,500 to $7,000 depending on details such as: 
The type of eyelid surgery procedure chosen
The surgical technique utilized
The extent of your unique concerns
Whether complementary procedures were performed simultaneous to eyelid surgery
​​While insurance companies don't usually provide coverage for an eyelid lift, plastic surgery financing is an option for qualified patients who would like to space out the costs of their procedure. Trusted healthcare lending companies like CareCredit® and Prosper® Healthcare Lending allow you to select from a range of low- to no-interest payment plans once you're approved by an easy application process. Our office would be happy to answer any questions you may have about financing options or the cost of blepharoplasty. 
Dr. Geoffrey Leber and his team are here to help you achieve your aesthetic goals in a safe and caring environment. If you're interested in scheduling a consultation, reach us by phone (480) 945-5522 or contact us online.