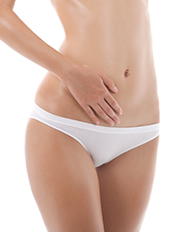 A tummy tuck, also known as abdominoplasty, is a surgical procedure used to reshape the body's midsection. Weight gain and pregnancy weaken the abdominal wall, leading to a less attractive body contour. Stubborn pockets of fat appear, which do not respond effectively to diet and exercise. Abdominoplasty removes excess fat and skin and tightens abdominal muscles, leaving a leaner, sleeker body line.
Abdominoplasty can be performed as either a full or partial tummy tuck, depending on the specific needs of the patient. Board-certified plastic surgeon Geoffrey Leber, MD performs this procedure using a single incision for some patients, which reduces the amount of visible scarring left after the procedure. Tummy tucks are often performed after pregnancy or significant weight loss, in order to restore tone and tightness to the abdominal region.
Best Candidates
The best candidates for abdominoplasty are men and women who have significant pockets of fat in the midsection that have not responded to diet or exercise. Factors that can lead to this issue include:
Heredity
Pregnancy
Weight gain and subsequent loss
Prior surgeries in the midsection
Aging
Abdominoplasty is not a weight loss procedure and works best in patients who have already achieved a healthy weight. Patients who have stretch marks above the belly button may also see these lines move to the lower part of the abdomen, where they become much less visible. The surgery is not recommended for women who plan to become pregnant in the future, or those who plan to lose a significant amount of weight after the procedure.
About the Procedure
Tummy tucks are performed by Dr. Leber as an outpatient procedure under general anesthesia in his cosmetic surgery office in Phoenix. Incisions may be placed horizontally from hipbone to hipbone, or vertically down the middle of the abdomen. The type of incision will depend on the patient's specific needs and desired outcome.
Once the incision is made, Dr. Leber tightens abdominal muscles using both lateral and horizontal sutures. This technique results in a more natural, toned appearance for the tummy. Fat tissue and excess skin is removed before the incision is closed. Repositioning of the navel will also be done during this procedure if necessary.
Types of Tummy Tucks
In addition to the basic tummy tuck procedure, Dr. Leber customizes the procedure for the specific needs of his patients. Two types of specialized abdominoplasty procedures Dr. Leber performs include:
Tummy Tucks for Severe Diastasis
Diastasis refers to a condition where the abdominal muscles on either side of the midsection become significantly stretched, leading to a protruding abdomen. Dr. Leber repairs sever diastasis by folding and suturing excess tissue to produce a flatter abdomen and slimmer waistline.
Tummy Tucks with Midline Skin Excision
In some cases, there is excessive skin from massive weight loss. Full correction of the tissue redundancy and laxity may require an additional vertical incision for optimal results.
Recovery and Results
Patients typically stay one night at our overnight recovery center and perform only light activity for the first two weeks of recovery. Intraoperative injection of a long lasting local anesthetic (Exparel) greatly diminishes post operative discomfort for the first three days of recovery. Discomfort can then be managed with oral pain medication, while a compression garment worn after surgery will minimize swelling. Patients usually return to work and daily activities within 1-2 weeks after the procedure.
Results of the tummy tuck can be seen right after the procedure and continue to improve as the abdominal area heals. As long as a healthy weight is maintained after the procedure, tummy tucks are considered a permanent way to regain a firmer, leaner midsection.
Dr. Leber is experienced in performing tummy tucks for patients with a wide range of needs. To learn more about this procedure, or any of the cosmetic treatments we offer, contact Dr. Leber and his staff today.