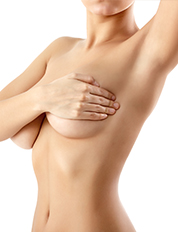 While there are many patients who utilize cosmetic surgery to improve their breast appearance, countless individuals also pursue breast enhancement to resolve the physical symptoms presented by large and heavy breasts. For women who are concerned with an excessive breast size, breast reduction can be a dynamic procedure that yields both the functional and aesthetic benefits of having a more proportionate chest appearance in relation to your body frame. Plastic surgeon Geoffrey Leber, MD offers breast reduction surgery at his Scottsdale practice to minimize the physical burdens of oversized breasts and achieve a natural-looking result that appears in harmony with a patient's unique figure.
What is Breast Reduction?
Breast reduction, or mastopexy, is a surgical procedure designed to decrease a patient's overall breast size by removing excess skin, fat, and breast tissue. This is done with the goal of achieving a more manageable breast appearance as well as minimizing the symptoms of large breasts, such as body pain, poor posture, ill-fitting clothing, skin irritation, labored breathing, and physical strain when engaging in exercise or physical activity. As this procedure involves reshaping the breasts and removing redundant tissue, breast reduction typically includes some of the benefits of a breast lift to a certain extent. For example, like mastopexy, the nipples and areolas can be repositioned and resized during surgery to appear naturally with the new breast shape. Ultimately, breast reduction is often considered one of the most rewarding cosmetic surgeries available for women who feel that an excessive breast size is diminishing their quality of life.
Who is a Candidate for Breast Reduction?
Individuals who would benefit from breast reduction typically include women who experience:
A breast size that disproportionately dominates their body frame
Frequent (or constant) back, neck, and/or shoulder pain
Skin irritation, rashes, or indentations from bra straps
Difficulty exercising or otherwise engaging in physical activity
Difficulty finding clothing that fits properly
Self-consciousness or discomfort in response to unwelcome attention caused by one's breast appearance
To be a good candidate for surgery, prospective patients should be relatively healthy with no uncontrolled medical conditions. Dr. Leber also offers male breast reduction for men affected by gynecomastia, a condition in which male breast tissue appears enlarged. Whatever your concerns are, Dr. Leber can help you discover the most beneficial treatment options to fulfill your aesthetic goals during a consultation.
How is the Breast Reduction Procedure Performed?
Breast reduction is an outpatient procedure performed using general anesthesia. Prior to surgery, you will meet with Dr. Leber in a consultation, where you two will intently discuss your concerns, unique needs, and aesthetic goals for the outcome.
Dermal Wing Reduction
A traditional breast reduction and lift (inferior pedicle-based reduction mastopexy) relies on the breast skin to hold the breast tissue at its higher position on the chest wall. This technique will inevitably lead to recurrent ptosis (hanging or bottoming out) of the breast due to the natural stretching of the skin. Recognizing this problem, Dr. Leber developed a procedure that he calls the "Dermal Wing Reduction," which can better support the lifted breasts by utilizing a patient's own tissue to achieve more upper breast pole volume (auto augmentation), reducing the breasts' reliance on the overlying skin for support.
The "Dermal Wing Reduction" acts much like an internal bra. Dr. Leber's technique utilizes the strength of the normally discarded dermis to re-suspend and repair the fallen breast tissue at a higher position on the chest wall, allowing the breast skin to be re-draped around the newly positioned breast tissue. This approach is less reliant on the breast skin envelope for support. An immediate improvement in the fullness of the breast upper poles (cleavage line) is noticed, along with what Dr. Leber believes is a longer lasting uplifted breast due to the added support of the internal "dermal wings." Dr. Leber will reshape the breasts through the removal of excess glandular tissue, skin, and fat. The nipples and areolas are also repositioned and/or resized at this time. Skin is tightened to accommodate your new breast shape, and incisions are closed. The entire procedure usually takes between one to three hours.
What is Recovery from Breast Reduction Like?
After surgery is complete, a compression bandage or surgical bra will be worn to support the new breast shape and facilitate the healing process. Swelling, bruising, and tenderness are common, but should subside as your recovery progresses. In the meantime, oral pain medications can usually manage any discomfort. Most patients require roughly one week of downtime before returning to work and their daily routines. Strenuous labor and aerobic exercise should be avoided for approximately four to six weeks, or until cleared by Dr. Leber. As your breasts continue to heal, the aesthetic outcome should also improve. After a few months, you should have a good idea of the final result. Once fully recovered, women who undergo breast reduction usually express immense satisfaction at their new breast aesthetic, as well as the ways in which this surgery can foster other positive life changes, such as a greater ability to be more physically active.
What Will My Breast Reduction Scars Look Like?
Dr. Leber takes every measure to make post-surgical scarring discreet and places incisions within the natural contours of the breasts whenever possible. As the healing process continues, the visibility of scars can fade to a substantial degree. All scarring is typically well-hidden underneath bras or bikini tops.
How Much Does Breast Reduction Cost?
Statistics published by the American Society of Aesthetic Plastic Surgeons (ASAPS) list the average surgical cost of breast reduction in 2017 as $5,860, not including expenses pertaining to anesthesia and post-operative care, among other factors. The true price of your breast reduction will be affected by your geographic location and the experience of your plastic surgeon, as well as the following details of your treatment plan:
The surgical technique used
The extent of your concerns
The complexity of your procedure
After your consultation, our office will be able to provide you with a personalized quote of your surgical fees. If you wish to pay for your treatment over time rather than in a lump sum, Dr. Leber works with a number of reputable plastic surgery financing companies, including CareCredit® and Prosper® Healthcare Lending. These options can make cosmetic enhancement more affordable by offering qualified applicants a range of low- to no-interest payment plans that can be chosen to accommodate your budgetary concerns. Please don't hesitate to ask a member of our team any questions you may have about the price of breast reduction by calling our practice.
Breast reduction can be an effective and long-lasting solution for patients who are concerned with overly large breasts. For more information about the procedure, or to schedule a consultation with Dr. Leber, please reach out to our Scottsdale practice today.