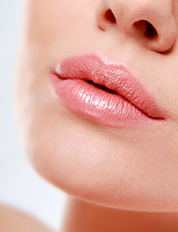 The mouth is one of the first areas to see the signs of aging. Fine lines appear around the lips, also referred to as perioral rhytides, which are brought on by regular sun exposure or smoking. Collagen, the substance that supports the underlying structure of the skin, becomes depleted in the middle to later years of life. The lips also begin to lose volume and definition, adding to the aged appearance.
Dermabrasion can be used to enhance the appearance of the mouth and lips, smoothing out fine lines and creating a more youthful pout. Also referred to as perioral rejuvenation, this cosmetic treatment removes dead, dry cells on the surface of the skin through a process known as mechanical friction. As the top layer of skin is removed, softer, smoother skin is left in its wake.
Best Candidates
The best candidates for perioral rejuvenation by dermabrasion are those who are unhappy with the appearance of their mouth and lips. Patients should be in relatively good health, with realistic expectations about what the procedure can do. This procedure can be used to treat the following:
Vertical lines around the lips
Age spots around the mouth area
Shallow scarring around the lips and mouth
Lip rhytides
Perioral rejuvenation may be performed in combination with other procedures to enhance results. Additional procedures might include a facelift, injectables, and laser resurfacing procedures.
About the Procedure
Perioral rejuvenation by dermabrasion is performed using a high speed, diamond-shaped device which is administered to the surface of the skin. The rotating action removes the outer layers of skin cells. Patients may undergo the procedure with a topical or local anesthetic, depending on their preference.
The duration of the procedure will depend on how much skin will be addressed in the session. Patients are able to return home immediately after the procedure. Skin will be red and irritated, similar to sunburn.
Recovery and Results
Most patients see noticeable improvement in the area within 7-10 days, as new skin develops. However, it could take as long as 6-8 weeks for the redness to fully subside. At that time, full results can be seen.
Perioral rejuvenation by dermabrasion is one of the most effective ways to shave years off the mouth and lips. For more information about this procedure, or any of the cosmetic procedures we offer, contact Dr. Geoffrey Leber and his staff at our Scottsdale office today.