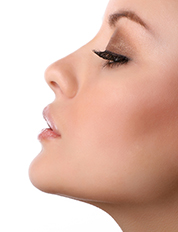 When patients contemplate a plastic surgery procedure, a chin implant isn't usually the first option to come to mind. Although most people do not scrutinize the chin like they do other facial features, a weak, receding chin can have a negative effect on the overall facial profile. By enhancing the appearance of the chin, the rest of the facial features may be brought into proper balance and the facial profile may be greatly improved.
Chin implants are a type of chin augmentation procedure performed by a plastic surgeon to enhance the profile of the chin. In some cases, the procedure can offset the appearance of a dominating nose and complement the results of a rhinoplasty. The implants are crafted of a biocompatible substance that feels very similar to the natural tissue of the chin. The implant is placed within the tissue where the lower lip and gum meet for a look that is naturally beautiful.
Best Candidates
The best candidates for a chin implant are in good physical health and have realistic expectations about the outcome of the procedure. Candidates typically are unsatisfied with a receding chin and wish to bring the jawline in balance with the rest of their facial features. Patients should be prepared for approximately one week of recovery time after their procedure.
About the Procedure
Chin implant surgery is performed as an outpatient procedure and may involve either local or general anesthesia. If a local is used, sedation may also be offered to help lower a patient's anxiety level about the surgery. The incision to insert the implant is generally made under the chin or inside the lower lip area. With either incision location, scarring will be kept to a minimum.
The placement of the chin implant is critical to the success of the procedure. Once the implant is in place, it is secured in its location with screws or sutures attached to the chin bone. The procedure typically takes approximately 1-2 hours to complete. Patients are able to return home a few hours after the procedure.
Recovery and Results
Discomfort after a chin implant can be managed with oral medication. The area may also be bruised and swollen for a number of days as the surgical site heals. Most swelling will be gone within six weeks after the procedure.
Patients may return to work and regular activities within 7-10 days after surgery. Results of the procedure will be evident once swelling in the area fully subsides. Chin implants are considered a permanent way to augment the chin and a well-performed chin implant should last a lifetime for the patient.
If you would like to learn more about chin implants, contact the office of Dr. Geoffrey Leber. His staff can answer any questions you might have or schedule a consultation for you.