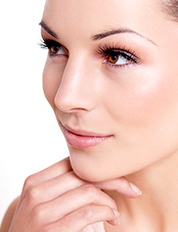 Rhinoplasty is cosmetic surgery designed to change the size or shape of the nose. This procedure may also be used for medical purposes, to relieve breathing problems, correct a birth defect, or address an injury. The procedure is one of the most popular cosmetic surgeries performed today, with more than a half-million people seeking treatment to change the appearance of their nose each year.
Rhinoplasty may be performed using a variety of techniques, depending on the issue to be addressed and the desired outcome. Scottsdale plastic surgeon Geoffrey Leber, MD customizes rhinoplasty procedures to a patient's specific needs. The goal of rhinoplasty is to alter the nose to restore a balanced appearance to the face, for beautiful, natural-looking results.
Who is a Candidate for Rhinoplasty?
The best candidates for rhinoplasty are patients in relatively good health with reasonable expectations about the outcome of the procedure. The surgery may be performed for the following reasons:
Restore symmetry to a "crooked" nose
Change the size of the nose
Alter the shape of the nose to make it more visually appealing
Remove bumps across the nasal bridge
Change the size of the nostrils
The procedure may also be done to improve breathing ability or to correct a defect that has been present since birth. If the nose has been injured, surgery may be recommended to restore the original appearance prior to injury.
Open Rhinoplasty vs. Closed Rhinoplasty
Open rhinoplasty and closed rhinoplasty are the two primary techniques used to perform cosmetic nose surgery. The goals of your procedure and your unique needs will determine which approach is the most ideal to achieve your desired look. During open rhinoplasty, Dr. Leber accesses the nasal framework through an incision made where the base of the columella (the strip of tissue that separates the nostrils) meets the upper lip. This incision location allows a great degree of visibility and control over the procedure and offers a clear access point from which Dr. Leber can recontour the nose. For this reason, open rhinoplasty is often the preferred technique for more complex rhinoplasty procedures, as well as for cases of revision rhinoplasty. Closed rhinoplasty utilizes an internal incision, leaving no visible scarring after the procedure. The closed approach is less invasive than open rhinoplasty and can lead to less post-operative swelling and a relatively shorter recovery period.
How is the Rhinoplasty Procedure Performed?
Rhinoplasty is typically performed as an outpatient procedure under general anesthesia. Closed rhinoplasty restricts incision to inside the nose, while open rhinoplasty includes an incision between the nostrils. The incisions allow entry for the surgeon to alter the bone and cartilage underneath, producing a new look for the nose. Both result in little, if any, visible scarring.
Rhinoplasty usually takes 3 – 4 hours to complete. Soft material may be placed inside the nose to help it hold its new shape until healing is complete. A splint may also be placed around the nose for the same reason.
What is Recovery from Rhinoplasty Like?
Patients usually remain in the recovery area for a period of time after surgery to ensure no bleeding occurs and the effects of the anesthesia wear off properly. After this period of observation, patients are allowed to continue their recovery in the comfort of their own homes. Swelling is a normal reaction to surgery and should improve as the nose continues to heal. It can take up to one year for all inflammation to fully resolve, although the majority of swelling typically subsides within the first few months after your procedure. Dr. Leber will provide comprehensive post-operative care instructions at the time of surgery, which will include recovery tips such as:
Walking short distances around the house and ambulating as soon as you are comfortable doing so
Keeping the head elevated above chest level when sleeping and resting
Using ice packs and oral pain medication when necessary to manage discomfort
Patients can generally return to work and their normal routines within one week, provided that they avoid heavy lifting and strenuous activity. If your work responsibilities involve demanding physical labor, you may require a relatively longer period of absence from work. Dr. Leber will inform you when it is safe to exercise again based on your unique rate of healing.
How Long Does Rhinoplasty Last?
Rhinoplasty is considered a permanent way to alter the appearance of the nose and goals are usually achieved in a single surgery. Since the cartilage and bones of the nasal framework are surgically adjusted, patients can enjoy their results for a lifetime. The full outcome of rhinoplasty may not be seen right away, due to the swelling and bruising that often occurs after surgery. The results will be evident soon after the procedure; however, it usually takes 6 – 12 weeks for swelling to resolve and around 12 months for full resolution of tissue induration.
How Much Does Rhinoplasty Cost?
Rhinoplasty generally costs between $5,000 and $10,000, depending on the technique used during your procedure, whether a deviated septum was corrected, and the overall complexity of the surgery. This range includes expenses for anesthesia, post-operative care, surgeon's fees, and surgical facility fees, among other potential costs. Because each nose surgery is a highly personalized procedure, it is impossible to determine an exact cost estimate without first evaluating your unique concerns. Our office will be happy to provide you with a personalized quote after your consultation with Dr. Leber.
Our accepted payment methods include financial plans from leading healthcare lending institutions, CareCredit® and Prosper® Healthcare Lending. These plastic surgery financing companies can help make rhinoplasty more affordable by offering qualified patients an array of low- to no-interest payment plans to choose from, allowing them to make the most ideal selection for their budgetary concerns. If you would like to learn more, please contact our practice to speak to a member of our team.
Is a Non-Surgical Rhinoplasty Possible?
Since rhinoplasty is designed to reconstruct structures within the nasal framework, there is currently no non-surgical treatment that can address the same scope of aesthetic concerns, nor achieve the same quality of results, as nose surgery. However, if you would rather avoid surgery, certain dermal fillers—such as JUVÉDERM® and Restylane®—can be combined to fill humps in the nasal bridge and recontour some aspects of the nose shape. Referred to as a "liquid rhinoplasty," this minimally invasive technique can enhance the nose without the need for extensive recovery time. While the outcome will be temporary, dermal fillers may be an effective solution to improve the appearance of the nose before weddings, events, or other special occasions. If you're interested in learning more about a liquid rhinoplasty, Dr. Leber can determine whether dermal fillers can effectively address your concerns in a consultation.
Choosing the Best Rhinoplasty Surgeon For Your Needs
When performed correctly and with patients' cosmetic goals in mind, rhinoplasty can be an extremely rewarding procedure that enhances your entire facial appearance. That said, finding the right plastic surgeon for you is key to bringing your desired look to fruition. While you are researching your options, the following tips can help you pick the most qualified rhinoplasty surgeon for your needs:
Learn about a prospective surgeon. Read their online biography and familiarize yourself with their credentials, professional memberships, training, and educational background.
Select a board-certified and fellowship-trained plastic surgeon. Not all surgeons are created equal. Certification from the American Board of Plastic Surgery often denotes extra training in aesthetic procedures beyond the mandatory minimum required to practice. Furthermore, only a handful of plastic surgeons across the country are fellowship-trained in a subspecialty of plastic surgery. Dr. Leber completed his aesthetic surgery fellowship in Beverly Hills under the direction of Dr. Richard Ellenbogen.
Look at before-and-after photos of previous patients. While the ideal outcome of your nose surgery should be based on your unique facial proportions rather than another patient's results, exploring a surgeon's rhinoplasty portfolio can give you an idea of what can be accomplished with surgery as well as the type of outcome you can potentially expect to achieve. Be sure to find pictures of individuals with similar concerns as yours (dorsal nasal hump, wide nasal bridge, bulbous nasal tip, wide nasal base, overly projecting tip, rounded tip, enlarged nostrils, crooked nose, etc.) and compare their results to what you may hope to see after surgery.
Read reviews and assess a plastic surgeon's quality of care. It's ultimately in your best interest to select a plastic surgeon with whom you feel comfortable entrusting your safety and aesthetic goals. While a consultation is the best way to get to know a prospective surgeon, reading online reviews can at least provide you with some insight into the experiences of other patients.
If you have any questions about the rhinoplasty procedure or Dr. Leber's experience with nose surgery, we encourage you to book an initial consultation with him to discuss your concerns.
Additional Rhinoplasty FAQs
Is male rhinoplasty different from female rhinoplasty?
Rhinoplasty itself is performed according to a patient's unique needs, concerns, goals, and nasal framework. Although there are certain differences in the ideals of beauty and anatomical features (skin thickness, height of nasal bridge, etc.) between men and women, cosmetic nose surgery is still essentially performed using the open and closed techniques. The structural distinctions between a male and female nose may influence your procedure, but rhinoplasty usually has the same goals for all genders—to improve facial balance according to your natural characteristics and/or make it easier to breathe.
What is the difference between septoplasty and rhinoplasty?
Septoplasty is performed to alleviate functional concerns, such as difficulty breathing, while rhinoplasty is meant to address issues that are more cosmetic in nature. Septoplasty specifically aims to straighten a crooked septum, which is the strip of bone and cartilage that separates your nostrils. A crooked, or deviated, septum is very common and may restrict airflow to varying degrees. When septum asymmetry is severe, it can even prevent easy breathing on an entire side of the nose. For this reason, some individuals undergo septoplasty to reposition the septum to the middle of the nose and improve airflow.
Does insurance cover rhinoplasty?
Rhinoplasty is a cosmetic procedure that is not usually covered by medical insurance policies. However, we do accept financing from CareCredit® and Prosper® Healthcare Lending. These companies offer qualified patients low- to no-interest financing plans to make their rhinoplasty expenses more manageable.
What are the risks of rhinoplasty?
Rhinoplasty involves the inherent risks that are present with any type of surgery, such as anesthesia complications, infection, poor wound healing, and unfavorable scarring. Potential negative outcomes that are unique to nose surgery include the possibility of nasal perforation, changes in skin sensation, and breathing problems, which are complications that may require revision rhinoplasty to resolve. These risks are very rare as long as patients select a well-qualified plastic surgeon to properly assess their candidacy and perform their procedure.
How long will I have to wear a rhinoplasty splint?
You should wear a nasal splint for at least one week after your procedure depending on which concerns were corrected during rhinoplasty. This is necessary to help protect and support your new nose contours while they heal into place. Dr. Leber does not typically pack the nose after a rhinoplasty procedure, therefore nasal breathing is possible immediately after surgery. No pressure should be placed on the nasal bridge during recovery, therefore patients who wear glasses should switch to contacts until the majority of healing has been completed.
Dr. Leber and his staff are here to help you achieve your aesthetic goals in a safe and caring environment. If you're interested in scheduling a procedure, reach us by phone (480) 945-5522 or contact us online.