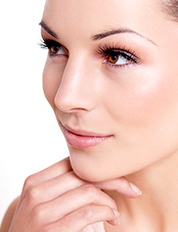 Rhinoplasty is cosmetic surgery designed to change the size or shape of the nose. This procedure may also be used for medical purposes, to relieve some breathing problems, correct a birth defect or address an injury. The procedure is one of the most popular cosmetic surgeries performed today, with more than a half-million people seeking treatment to change the appearance of their nose each year.
Rhinoplasty may be performed using a variety of techniques, depending on the issue to address and the desired outcome. Scottsdale plastic surgeon Geoffrey Leber, MD customizes rhinoplasty procedures to a patient's specific needs. The goal of rhinoplasty is to alter the nose to restore a balanced appearance to the face, for beautiful, natural results.
Who is a Candidate for Rhinoplasty?
The best candidates for rhinoplasty are patients in relatively good health with reasonable expectations about the outcome of the procedure. The surgery may be performed for the following reasons:
Restore symmetry to a "crooked" nose
Change the size of the nose
Alter the shape of the nose to make it more visually appealing
Remove bumps across the nasal bridge
Change the size of the nostrils
The procedure may also be done to improve breathing ability or to correct a defect that has been present since birth. If the nose has been injured, surgery may be recommended to restore the original appearance prior to injury.
Open Rhinoplasty vs. Closed Rhinoplasty
Open rhinoplasty and closed rhinoplasty are the two primary techniques used to perform cosmetic nose surgery. The goals of your procedure and your unique needs will determine which approach is the most ideal to achieve your desired look. During open rhinoplasty, Dr. Leber accesses the nasal framework through an incision made where the base of the columella (the strip of tissue that separates the nostrils) meets the upper lip. This incision location allows a great degree of visibility and control over the procedure and offers a clear access point from which Dr. Leber can recontour the nose. For this reason, open rhinoplasty is often the preferred technique for more complex rhinoplasty procedures, as well as for cases of revision rhinoplasty. Closed rhinoplasty utilizes an internal incision, leaving no visible scarring after the procedure. The closed approach is less invasive than open rhinoplasty and can lead to less post-operative swelling and a relatively shorter recovery period.
How is the Rhinoplasty Procedure Performed?
Rhinoplasty is typically performed as an outpatient procedure under general anesthesia. Closed rhinoplasty restricts incision to inside the nose, while open rhinoplasty includes an incision between the nostrils. The incisions allow entry for the surgeon to alter the bone and cartilage underneath, producing a new look for the nose. Both result in little, if any, visible scarring.
Rhinoplasty usually takes 3-4 hours to complete. Soft material may be placed inside the nose to help it hold its new shape until healing is complete. A splint may also be place around the nose for the same reason.
What is Recovery from Rhinoplasty Like?
Patients usually remain in the recovery area for a period of time after surgery to ensure no bleeding occurs and the effects of the anesthesia wear off properly. After this period of observation, patients are allowed to continue their recovery in the comfort of their own homes. Oral medication limits discomfort for the first few days and patients generally return to work and regular activities within one to two weeks.
What is Recovery from Rhinoplasty Like?
The full outcome of rhinoplasty may not be seen right away, due to the swelling and bruising that often occurs after surgery. The results will be evident soon after the procedure; however, it usually takes 6 – 12 weeks for the swelling to resolve and around 12 months for full resolution of tissue induration. Rhinoplasty is considered a permanent way to alter the appearance of the nose and is usually completed in a single surgery.
How Much Does Rhinoplasty Cost?
Rhinoplasty generally costs between $5,000 and $10,000, depending on the technique used during your procedure, whether a deviated septum was corrected, and the overall complexity of the surgery. This range includes expenses for anesthesia, post-operative care, surgeon's fees, and surgical facility fees, among other potential costs. Because each nose surgery is a highly personalized procedure, it is impossible to determine an exact cost estimate without first evaluating your unique concerns. Our office will be happy to provide you with a personalized quote after your consultation with Dr. Leber.
Our accepted payment methods include financial plans from leading healthcare lending institutions, CareCredit® and Prosper® Healthcare Lending. These plastic surgery financing companies can help make rhinoplasty more affordable by offering qualified patients an array of low- to no-interest payment plans to choose from, allowing them to make the most ideal selection for their budgetary concerns. If you would like to learn more, please contact our practice to speak to a member of our team.
Is a Non-Surgical Rhinoplasty Possible?
Since rhinoplasty is designed to reconstruct structures within the nasal framework, there is currently no non-surgical treatment that can address the same scope of aesthetic concerns, nor achieve the same quality of results, as nose surgery. However, if you would rather avoid surgery, certain dermal fillers—such as JUVÉDERM® and Restylane®—can be combined to fill humps in the nasal bridge and recontour some aspects of the nose shape. Referred to as a "liquid rhinoplasty," this minimally invasive technique can enhance the nose without the need for extensive recovery time. While the outcome will be temporary, dermal fillers may be an effective solution to improve the appearance of the nose before weddings, events, or other special occasions. If you're interested in learning more about a liquid rhinoplasty, Dr. Leber can determine whether dermal fillers can effectively address your concerns in a consultation.
Dr. Leber and his staff are here to help you achieve your aesthetic goals in a safe and caring environment. If you're interested in scheduling a procedure, reach us by phone (480) 945-5522 or contact us online.