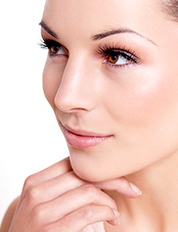 Rhinoplasty is cosmetic surgery designed to change the size or shape of the nose. This procedure may also be used for medical purposes, to relieve some breathing problems, correct a birth defect or address an injury. The procedure is one of the most popular cosmetic surgeries performed today, with more than a half-million people seeking treatment to change the appearance of their nose each year.
Rhinoplasty may be performed using a variety of techniques, depending on the issue to address and the desired outcome. Scottsdale plastic surgeon Geoffrey Leber, MD customizes rhinoplasty procedures to a patient's specific needs. The goal of rhinoplasty is to alter the nose to restore a balanced appearance to the face, for beautiful, natural results.
Best Candidates
The best candidates for rhinoplasty are patients in relatively good health with reasonable expectations about the outcome of the procedure. The surgery may be performed for the following reasons:
Restore symmetry to a "crooked" nose
Change the size of the nose
Alter the shape of the nose to make it more visually appealing
Remove bumps across the nasal bridge
Change the size of the nostrils
The procedure may also be done to improve breathing ability or to correct a defect that has been present since birth. If the nose has been injured, surgery may be recommended to restore the original appearance prior to injury.
About the Procedure
Rhinoplasty is typically performed as an outpatient procedure under general anesthesia. Closed rhinoplasty restricts incision to inside the nose, while open rhinoplasty includes an incision between the nostrils. The incisions allow entry for the surgeon to alter the bone and cartilage underneath, producing a new look for the nose. Both result in little, if any, visible scarring.
Rhinoplasty usually takes 3-4 hours to complete. Soft material may be placed inside the nose to help it hold its new shape until healing is complete. A splint may also be place around the nose for the same reason.
Recovery and Results
Patients usually remain in the recovery area for a period of time after surgery to ensure no bleeding occurs and the effects of the anesthesia wear off properly. After recovery, patients are allowed to continue their recovery in the comfort of their own homes. Oral medication limits discomfort for the first few days and patients generally return to work and regular activities within 1-2 weeks.
Results of rhinoplasty may not be seen right away, due to the swelling and bruising that often occurs after surgery. It usually takes 6-12 weeks for healing to occur and the full results to become evident. Rhinoplasty is considered a permanent way to alter the appearance of the nose and is usually completed in a single surgery.
Dr. Leber and his staff are here to help you achieve your aesthetic goals in a safe and caring environment. If you're interested in scheduling a procedure, reach us by phone (480) 945-5522 or contact us online.