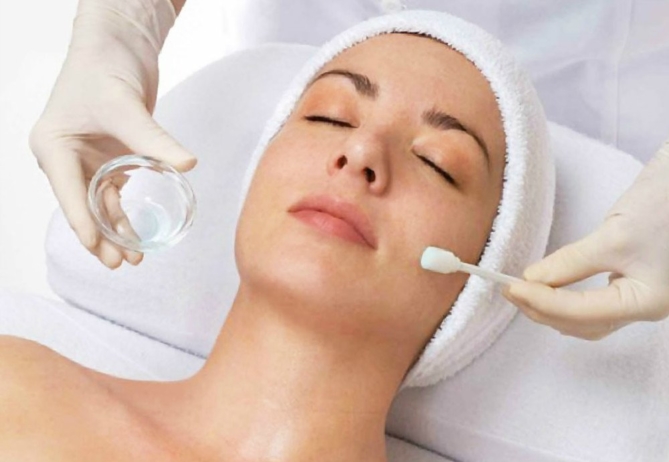 After the elements have taken their toll on our skin, the complexion can appear dull and lifeless. Harmful UV rays may also lead to the appearance of brown spots and fine lines. A chemical peel is a great way to reverse the damage and rejuvenate the skin. At our Skin & Laser Center, Dr. Leber and his staff offer a variety of chemical peels that can be tailored to your specific needs and desired results.
What Is A Chemical Peel?
A chemical peel is an exfoliating treatment that uses specific solutions to remove outer dead layers of skin, revealing softer, smoother skin underneath. The procedure can also effectively minimize the appearance of some type of sun damage including brown spots and fine lines. Different ingredients might be included in your peel formulation to brighten or hydrate the skin while rejuvenating the overall complexion.
A chemical peel in performed in the office and generally does not require any type of anesthesia. The procedure usually takes one hour or less. Patients are able to return home as soon as their treatment is completed and lighter chemical peels do not require any type of downtime.
Benefits of Chemical Peels
There are a number of potential benefits of chemical peel, including:
More even skin tone and texture
Smoother, softer skin
Minor imperfections such as fine line and shallow scarring are improved
Brown spots and freckles will be less visible
Produces more vibrant, radiant looking skin
Some chemical peels offer results after the very first treatment. However, lighter peels may require a series of treatments in order to achieve full results.
Options in Chemical Peels:
At our Skin & Laser Center, we offer a variety of options in chemical peels:
ZO MEDICAL CONTROLLED DEPTH PEEL – A highly advanced, in-office-only procedure, recommended for use when scarring, severe laxity, severe texture damage and advanced melasma are of concern.
Benefits
Maximal skin tightening benefits
May be combined with other ablative procedures for enhanced benefits
Easily mixed with TCA
Excellent anti-inflammatory benefits
ZO MEDICAL 3 STEP PEEL – An innovative, in-office treatment peel targeting melasma, acne, fine lines, rough texture, large pores and dullness, followed by an at-home treatment that produces longer lasting results than ordinary peels. Suitable for all skin types.
Benefits
Dual-action, highly effective peel designed to provide skin renewal and stimulation
Utilizes a blend of exfoliants, retinol and multi-action agents to significantly improve skin health and treat many signs of aging
Supports improvement of skin barrier protection and improves the skin's ability to repair and renew itself
Provides antioxidant protection as well as anti-irritant benefits
APEELE – APEELE™ is a next-generation revitalizing peel designed to provide controlled exfoliation of damaged skin with significant visible results after just one treatment. This powerful yet non-invasive chemical resurfacing procedure uses a synergistic combination of multiple active ingredients to improve the quality and appearance of facial skin. APEELE™ achieves a smoother, tighter and younger-looking face without surgery, injections or significant downtime. Experience a visible transformation of your skin with APEELE™.
Skinceuticals –
Micropeel 20 – Micropeel 20 Solution contains 20% unbuffered, unneutralized glycolic acid at a low pH to help improve the appearance of fine lines, wrinkles, dullness, visible skin imperfections, and visible signs of photodamage.
Micropeel 30 – Micropeel 30 Solution contains 30% unbuffered, unneutralized glycolic acid at a low pH to help improve the appearance of signs of advanced photoaging, wrinkles, dullness, and/or skin that has previously tolerated Micropeel 20 Solution.
Micropeel Plus 20 – Micropeel Plus 20 Solution features a 20% salicylic acid to help improve the appearance of acne, fine lines and wrinkles, uneven skin tone, laxity, dullness, and skin imperfections.
Micropeel Plus 30 – Suitable for more tolerant skin, Micropeel Plus 30 Solution 30% salicylic acid to help minimize the appearance of acne, fine lines and wrinkles, uneven skin tone, laxity, dullness, and skin imperfections.
Advanced Corrective Peel – Formulated with an exclusive blend of clinical-grade acids and a maximized peel concentration of phenylethyl resorcinol, Advanced Corrective Peel dramatically diminishes the appearance of discoloration, while smoothing texture and refining the appearance of pores, to restore a brighter, more clarified skin tone. For optimal results, a series of 4-6 treatments every 4 weeks is recommended.
PCA Skin –
Chemical peels are an important part of skin health. As an effective treatment option for most skin types and concerns, they improve tone, texture, fine lines and wrinkles, breakouts and dark spots.
There is no downtime with PCA SKIN chemical peels — you'll leave your appointment with a healthy glow and able to carry on with your regular activities.
We offer a variety of PCA peels based on skin type and need. Please inquire about specifics.