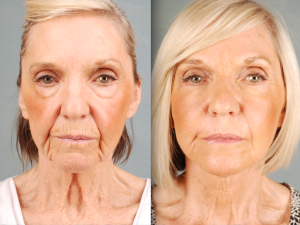 Facial aging leads to loss of facial volume along with sagging of the skin and facial soft tissues.  Over pulling of the skin or deep tissues during a face lift without adding volume to the deflated tissues often leads to an overly tight and unnatural appearance.  The youthful face has the shape of an inverted triangle with fuller cheeks and less volume in the lower face.  As we age the facial shape becomes more triangular with less volume in the cheek and more volume in the lower face and jowl region.
Dr. Leber replaces the lost upper facial volume with facial fat grafting.  The lax and descended facial soft tissues are then elevated during his face lift procedure in an upward vertical direction (SMAS plication).  This reduces the jowl and helps reestablish the inverted triangle of youth.  Additionally the corner of the mouth is slightly elevated reducing the unhappy "bitterness fold" from downward corner of the mouth appearance.  Lastly the skin is gently redraped in a posterior vector, avoiding the over pulled look, with special attention to closure and earlobe appearance along with careful realignment of the posterior hairline leads to a more youthful and refreshed appearance without many of the tell tail sings of facelift surgery.
Tell tail signs of face lift surgery
Accentuation of skeletal appearance from tightening skin without adding volume
Over pulled eye, nose (flared nostrils), and mouth (fish mouth)
Unnatural facial lines from vertical skin elevation
Unnatural facial animation from over pulling the deep tissue layer (SMAS)
These patients often look quite good in photographs however when using Their
facial muscles while talking or smiling, these irregularities are revealed.
Failure to recreate a natural earlobe leading to a "pixie earlobe"
Distortion of the tragus leading to an unnatural view of the ear canal
Step off of posterior hairline from unnatural vectors and failure to properly align hair line.
Improvement of the lower lid cheek junction with facial fat grafting was first reported in the American literature by Dr. Richard Ellenbogen, MD in 1986. Dr. Leber learned the finer details of these techniques during his advanced aesthetic surgery fellowship in Beverly Hills.  His experience with Dr. Ellenbogen also known as the "father of fat grafting", allowed him to incorporate and perfect facial fat grafting well before it became a standard technique for facial rejuvenation.
In addition to performing facial fat grafting during a face lift procedure, facial fat grafting is often performed in patients with early signs of aging who are not ready for a facelift and it is also performed years after having a facelift to maintain a more youthful appearance as people continue to age.  Additionally facial fat grafting is often performed in Dr. Leber's office taking less than one hour, utilizing local anesthesia as an outpatient procedure with little pain or discomfort and minimal downtime.  This has made facial fat grafting one of the most effective and versatile procedures for the facial rejuvenation expert, Beverly Hills trained, Dr. Geoffrey Leber.
Facial fat grafting performed on this 55-year-old patient by Dr. Geoffrey Leber, ten years after having a facelift and lower blepharoplasty performed by another plastic surgeon.
Facial fat grafting only in a 41 year old female patient by Dr Geoffrey Leber.