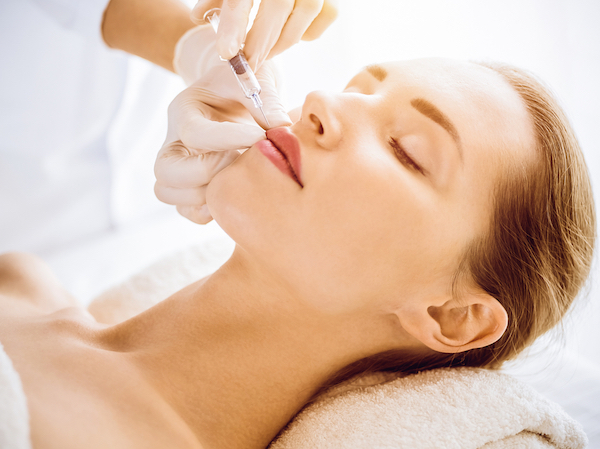 As the body's natural production of collagen wanes, youthful features in the face can be masked by thinning skin, a loss of fullness, and depleted facial volume. Fortunately, our Scottsdale-based plastic surgeon offers several highly effective solutions to plump the skin and restore your sleek facial angles, with facial fat transfer and fillers considered among the most popular options. Learning the difference between these two volume-enhancing treatments is key to understanding the most beneficial technique for your needs. 
Facial Fat Transfer: Also called "fat grafting," fat transfer is a surgical procedure that can rejuvenate the face using your own natural volume. Excess fat from another region of the body is prepared, purified, and meticulously injected into areas of the face lacking volume. In turn, fat transfer to the face can smooth creases around the nose and mouth while improving flat or hollow facial contours. Fat grafting typically lasts much longer than dermal fillers and offers the benefit of retaining stem cells in the transferred fat. These stem cells may have additional skin rejuvenation properties, which is often noted after performing a facial fat grafting procedure.
Dermal Fillers: Those looking for a non-surgical treatment may benefit from facial fillers such as Restylane®, JUVÉDERM®, and Sculptra® Aesthetic. These products can enhance the lips, cheeks, temples, and jawline as well as fill nasolabial folds and marionette lines. Unlike facial fat transfer, injectable products do not require surgery. However, the results will be temporary and typically last a few months depending on the type of filler chosen. 
Whether facial fat transfer or dermal fillers can best resolve your concerns depends on your needs and expectations for the outcome. Dr. Leber and our team strive to ensure you're fully informed of each option so you're able to make an educated decision about treatment. Please don't hesitate to contact our Scottsdale office to schedule a consultation with Dr. Leber or to learn more about our facial rejuvenation services.