Facelifts are an effective way for men and women alike to achieve a firmer, younger appearance. Dr. Leber utilizes techniques that replenish lost facial volume in addition to restoring tone while eliminating jowels and improving the neck contour which produces a very natural rejuvenation and avoids the tell tail signs of a face lift,(the "done" look).  The first step in ensuring a successful surgical procedure is determining whether you are an ideal candidate for a facelift.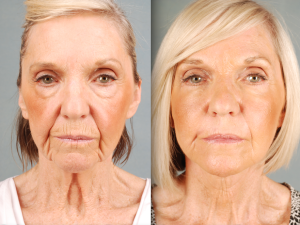 Facelift Treatment Areas
A facelift can address the following areas of concern:
Facial wrinkles and deep creases in the face and neck
Sagging skin around the jawline (jowls)
Drooping cheek line
Lines around the mouth (nasolabial crease and marionette lines)
Excess skin and fat in the neck with loose of defined jaw line (obtuse cervicomental angle)
Bands in the neck (platysma banding)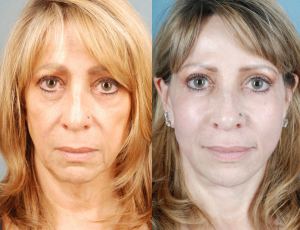 Ideal candidates will have one or more of these specific concerns. If there are other needs to be addressed, additional procedures may be recommended at the same time as the facelift.  Almost all of Dr. Leber's facelift patients also receive facial fat grafting to restore lost volume in areas of atrophy.  Additionally, other procedures may be performed to rejuvenate the eyes (blepharoplasty) and mouth (perioral dermabrasion). Skin rejuvenation procedures may also be recommended to further improve the facial skin appearance.  Laser resurfacing with a fractionated CO2 laser can reduce pore size, eliminate fine lines and wrinkles and give the skin brighter even tone be reducing blemishes and areas of hyperpigmentation.

Eliminating Risk Factors
Ideal candidates will not have any of the following risk factors:
Smokers (smokers do not heal as well and undertake additional risks when going under general anesthesia)
Patients with underlying medical conditions that could impact their response to anesthesia or affect the healing process
Patients taking certain types of medications (in some cases, medication can be stopped in advance of the procedure)
Prior to your facelift procedure, Dr. Geoffrey Leber will request a thorough medical history and perform his own examination to determine whether facelift surgery will be safe for you. Any risk factors will be addressed at this time. Having one or more risk factors may not necessarily disqualify you for the procedure completely, but additional steps may be required to ensure success of your procedure.
Other Factors for Success 
There are other considerations when determining whether a facelift will be a successful procedure for you:
Skin elasticity (complete loss of elasticity will not allow skin to conform to new facial structure)
Bone structure (because the underlying bones support the skin, better structure inside means better results outside)
Realistic expectations (patients should review before and after photos of former facelift patients to get an accurate idea of what their results might look like)
A facelift is an effective way to dramatically turn back the clock on your appearance. Patients who are good candidates for this procedure will find the surgery to be safe and produce desired results. To learn more about factors affecting the success of a facelift, contact Dr. Leber's office at 480-945-5522 to schedule your personal consultation or visit our contact page.